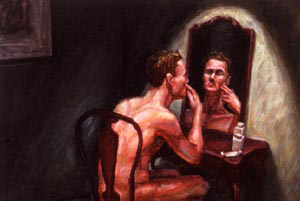 Paul 
Monette '57  
wrote the award winning "coming out" memoir "Becoming a Man" (1992) – a chapter recalls his life at Yale – and "Borrowed Time" (1988), his moving account of his care for 
his partner Roger 
Horwitz
 who died of AIDS complications in 1986. 
Yale University Art Gallery (YUAG) has purchased three paintings by the artist Hugh Steers YC '85.  
Hugh Steers did figurative painting in the
80s
and
90s
. One of his primary themes was
caregiving
in same sex relationships. Steers, himself, like Paul would die of AIDS complications in 1995, only one month after Paul. 
The Steers paintings are currently installed in the Contemporary Art galleries at the YUAG and the works will remain up through Yale's 50th 
Reunion. 
Information about Hugh Steers can be found at the web site of Visual AIDS, a charity devoted to maintaining a record of the work of artists who died from AIDS complications and to helping artists who are HIV positive. 
There is also a book of all of Steers' paintings and his life story that can be purchased in the shop on the Visual AIDS site. This handsome catalogue raisonne was compiled by Wheelock Whitney YC '73. 
To see the large painting purchased by YUAG online, go to the Steers material at the Alexander Grey Gallery web site and click the arrow until "Yellow Washcloth" (1992) comes up.