2019/20      Alika Bourgette   
Alika Bourgette is a PhD student in the University of Washington Department of History. His dissertation research investigates Native space making and resistance to kinship and relational reform in Kakaʻako, Honolulu in the late 19th and early 20th centuries. His project examines the ways Kanaka Maoli (Native Hawaiian) youths circumvented and transgressed gender and sexual norms introduced through missionary schools in Honolulu. By shifting conversations of Native dispossession from a focus on the loss of land tenure and property to the reconfiguration of kinship and relations in a place-based context, his work posits anti-statist and anti-patriarchal imaginations of future liberations. Prior to his attendance at the UW, Alika served as an AmeriCorps VIP Fellow for the Cross Cultural Centers at California State Polytechnic University, San Luis Obispo. Following his passion for social justice work, he supported programming and events for underrepresented students on campus.
2018/19      Desirae Embree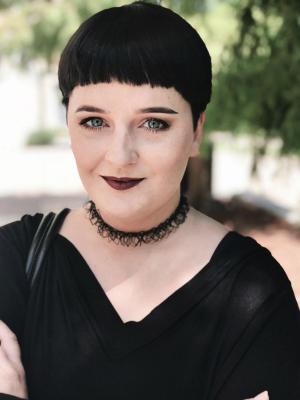 Desirae Embree obtained her B.A. in Philosophy and French, with a minor in Women's and Gender Studies, from Texas A&M University, where she is currently working toward her Ph.D. in the Department of English. Her research interests center around issues in the representation of sex and sexuality in entertainment media, with a specific focus on film. Her dissertation, titled "Private Pleasures, Public Provocations: Dyke Porn in the Late 20th Century," is a study of an under-examined moment in both lesbian history and the history of pornography in which queer women capitalized on both existing queer media cultures and new media technologies in order to create sexual entertainment for lesbians and other queer women. Spanning a variety of media technologies and practices including live performance, print, video, phone hotlines, voicemail, letter-writing, photography, and more, this project seeks to counter narratives of lesbian history that emphasize the political over the erotic, arguing that lesbian sexual desire and practice was the engine for unprecedented lesbian cultural productivity and entrepreneurship. 
2017/18     Ahmad Greene-Hayes
2016/17     Ludmila Janion
 
Ludmila Janion
2015/16     Anne Balay
2014/15     Victor Macias-Gonzales