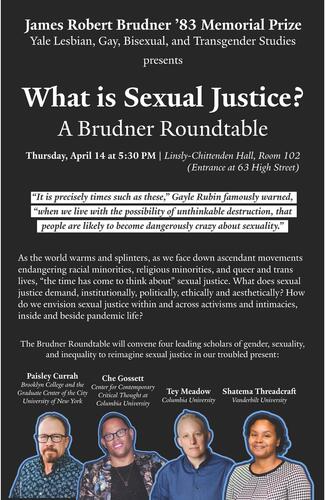 The Brudner Roundtable was recorded and is now available on YouTube. Click
here
 to view.
"It is precisely times such as these," Gayle Rubin famously warned, "when we live with the possibility of unthinkable destruction, that people are likely to become dangerously crazy about sexuality."  
As the world warms and splinters, as we face down ascendant movements endangering racial minorities, religious minorities, and queer and trans lives, "the time has come to think about" sexual justice. What does sexual justice demand, institutionally, politically, ethically, and aesthetically? How do we envision sexual justice within and across activisms and intimacies, inside and beside pandemic life?  
The Brudner Roundtable will convene four leading scholars of gender, sexuality, and inequality to reimagine sexual justice in our troubled present on Thursday, April 14 at 5:30 PM. The event titled, "What is Sexual Justice? A Brudner Roundtable," will be held in-person at Yale University in Linsly-Chittenden Hall, Room 102 (63 High Street).
Meet our 2022 Brudner Roundtable Panelists:
Paisley Currah (Brooklyn College and the Graduate Center of the City University of New York)
Paisley Currah is a Professor of Political Science and Women's & Gender Studies at Brooklyn College and the Graduate Center of the City University of New York. 

Currah has written widely on transgender issues, including on topics such as discrimination and sex reclassification, and the transgender rights movement. He is the author and editor of over 30 articles and books and co-founder of the leading journal in transgender studies, TSQ: Transgender Studies Quarterly. Currah's newest book, Sex Is Sex Does: Governing Transgender Identity, will be released in the spring of 2022 by New York University Press. His next project compares the transgender rights movement with womens' movements. He is also working on an edited volume, with Blas Radi, on transgender people and the state in the Americas.
Che Gossett (Center for Contemporary Critical Thought at Columbia University)
Che Gossett is a Black non-binary femme writer.  They are currently a postdoc at the Center for Contemporary Critical Thought at Columbia University and will be spending time as a visiting scholar at the Centre for Life-Writing at Wolfson College, Oxford University in 2022-23. Che was a 2019-2020 Helena Rubinstein Fellow in Critical Studies, in the Whitney Independent Study Program as well as a 2020-2021 graduate fellow at the Center for Cultural Analysis at Rutgers University.  Their work has been published in anthologies including Trap Door: Trans Cultural Production and the Politics of Visibility (MIT Press, 2017), Death and Other Penalties: Continental Philosophers on Prisons and Capital Punishment (Fordham UP, 2014), Transgender Studies Reader (Routledge 2014).  They are co-editing a special issue of Transgender Studies Quarterly (Duke UP) with Professor Eva Hayward, on trans in a time of HIV/AIDS.  They also co-edited with Professor David Getsy a syllabus on trans and non binary methods for Art Journal which just recently received the 2022 CAA Art Journal Award. 
Tey Meadow (Columbia University)
Tey Meadow is Associate Professor of Sociology at Columbia University. Her research and writing on gender, sexuality and intimacy centers deep ethnographic immersion and in-depth interviewing. She is the author of Trans Kids: Being Gendered in the Twenty First Century and Co-editor of Other Please Specify: Queer Methods in Sociology, as well as numerous scholarly titles. She is currently completing a new ethnographic book tentatively entitled Edgeplay: The Erotic Life of Social Difference.
Shatema Threadcraft (Vanderbilt University) 
Shatema Threadcraft is an Associate Professor of Gender and Sexuality Studies, Philosophy and Political Science at Vanderbilt University. She is the author of Intimate Justice: The Black Female Body and the Body Politic (Oxford University Press, 2016), winner of the National Women's Studies Association's 2017 Sara A. Whaley Award for the best book on women and labor, the 2017 W.E.B. Du Bois Distinguished Book Award from the National Conference of Black Political Scientists, and the 2017 Best Book Award from the American Political Science Association's Race, Ethnicity and Politics Organized Section (Best Book in Race and Political Theory). Her article "Intimate Justice, Political Obligation and the Dark Ghetto" (Signs, 2014) was awarded the American Political Science Association's 2015 Okin-Young Award, which recognizes the best paper on feminist political theory published in an English language academic journal in 2014. She was the 2017-2018 Ralph E. and Doris M. Hansmann Member at the Institute for Advanced Study and a Visiting Research Associate in the Department of Political Studies at University of the Witwatersrand in Johannesburg from 2009-2012. Her research has been supported by Harvard's Charles Warren Center for Studies in American History, the Ford Foundation, the American Association of University Women and the Gilder Lehrman Center for the Study of Slavery, Resistance and Abolition.
Thursday, April 14, 2022
5:30 PM at Linsly-Chittenden Hall, Room 102
63 High Street
New Haven, CT 06511
Yale ID card holders as well as vaccinated and boosted guests welcome. Please be prepared to present proof of vaccination to enter.
Contact
lgbts@yale.edu
for more information.