The application for Spring 2024 will open on December 1, 2023.
A generous gift from Andrew Solomon '85 has enabled us to organize an annual competition for summer fellowships to support undergraduate research projects in sexuality studies, especially lesbian, gay, bisexual, and/or transgender studies. Stipend support of up to $5,000 is granted for 8-10 weeks of fulltime summer research. Freshmen, sophomores, and juniors are eligible to apply.  Preference will be given to those students, especially juniors, whose research is intended to contribute to their senior essays.
Applications are submitted through the Yale College Student Grants database.  For more information on the Solomon Research Fellowships and application procedures, visit the Student Grants website, and search for Solomon Research Fellowship in LGBT Studies  (you must have a Yale NetID to view it.)
2022 Solomon Fellows:
Peyton Aiken, Queering the Narrative: A Deep Dive into LGBTQ+ Inclusive Children's Literature
Sam Heimowitz, Slovania, Hungary, Poland: The Rise of the LGBT Movement, Legal Homophobic Reactions, and the Struggle for the Right to Exist
Akweley Mazarae Lartey, Identity, Community, and Aging: Ethnicity's Impact on Ghanian Understandings of Gender and Sexuality
2021 Solomon Fellows:
Alejandro Andres Campillo, Queering Theater Processes By Amplifying BIPOC Transgender Voices
Danny Germino-Watnick, Dreaming and Disclosure: The Craft of Elizabeth Bishop's Dream Poems
2020 Solomon Fellows:
Kiran Baucom, Southern/Queer
CJ Fowler, Go (to Key) West, Young Man: Tourists, drag queens, and the possibility of queer futures
Alejandra Larriva-Latt, An American Artist: reconsidering lineages and symbolism in David Wojnarowicz's work
Akweley Lartey, Coalitional Activism: the link between LGBTQ activism and mental health advocacy in Ghana
Matt Nadel, CANS can't stand
Raphie Orleck-Jetter, The Queer Family: a return to the radical possibilities of LGBT parenthood
2019 Solomon Fellows:
Jordan Cozby, LGBTQ+ Teacher acceptance in the United States and South Africa
Nour Hussari, Arab Foundation for Freedom and Equality
Rachel Koh, NGO internship and thesis research on sex work in Singapore
Maxwell Richardson, Exploring kinship dynamics among black queer men in the context of the ongoing HIV epidemic
Marwan Safar Jalani, Human Rights Watch internship
Marisa Vargas-Morawetz, Queering the Homestead: An Oral, Visual, and Archival History of Queer and Genderqueer Farmers in the United States
2018 Solomon Fellows:
Maeve

Howard

,

Valuing Bodies:

LGBTQ

and Gender Nonconforming Reproductive Healthcare

Kellyn

Kusyk, 

"Every Dyke Knows a Dyke Mechanic": Mapping Queer and Trans Theory On the Field of Auto-Mechanics

Brian

Matusovsky

, 

Characterizing the Experiences of Discrimination and Stigma among Transgender Individuals and Queer Women in Bucharest, Romania (in collaboration with the Romanian Anti-AIDS Association (ARAS)

Deborah

Monti

, 

The Body in War: The Revolution and Queer Opportunity in Rural Mexico, 1910-1930

Rebecca

Persson, 

The Law and

BDSM: Consent in Adjudicating Sex

Nitya

Rayapati, 

LGBTQ

Community-Based Healthcare in U.S. Cities in the

1970s

Maxwell

Richardson

,

Esteem

Liam

Riley

,

Black Queer Urban Resistances and

Redefintions

: Intersectional Spaces in Late

20th

Century Harlem

Justine

Xu, 

"Culture Change:" Negotiating Heterogeneity in San Francisco's Queer and Transgender Asian American Community
2017 Solomon Fellows:
Luna Beller-Tadiar, "Visual Ethnography of Visual Practice: Art and Violence in the Phillipines
Kyle Ranieri, LGBT Program intership at Human Rights Watch
Angela Sim, "Not on Virtuous Chinawoman: the Page Act of 1875
2016 Solomon Fellows:
Nathaly Aramayo, "Muxes: Si. Y Los Demas?": On Muxes, their Communities, Gender Non-conformity, and the Spanish Language
Isabel Cruz, Visibility and Violence: The Social and Legal Impacts of Argentina's Transgender Rights Law
Laura Goetz, The Long-term Physiological Effects of Cross-sex Hormone Therapy in a Murine Model
Alexander Schultz, Research at the ONE National Gay & Lesbian Archives at USC
2015 Solomon Fellows:
Alex Borsa, SM 2016, 

Truvada Who(re)? PrEP, Biopolitics, and the Construction of Sexual 

Subjectivity

Nikita Khaitan

, SM 2016, 

In the wake of 377: Examining Narratives on Hinduism and Homosexuality
2014 Solomon Fellows:
Maya Binyam, BC 2015, Representation as Reverberation: Toward a Re-telling of Political Asylum
Daniel Dangaran, ES 2015, "This Place Needs Some Harm Reduction:" An Ethnographic Critical Analysis of an HIV/AIDS Service Nonprofit in San Francisco
Fabian Fernandez, DC 2015, 'Sociolismo' and Networks of Support for People Living with HIV/AIDS in Havana, Cuba
2013 Solomon Fellows:
Carol Crouch, How to Be Black, Female, and Othered Online: A Historical and Cultural Analysis
Winnie Hong, 

Gender Performance on the Web:The effects of new social networking technology on gender performance and dating culture in the lesbian community in South Korea

Gabriel Murchison 

Research on the History 

of 

LGBT 

Health 

Projects
2012 Solomon Fellows:
Isabel Ortiz, JE 2014, English, Cross-Cultural Representations of Religion and Sexuality in the Animation Genre
Rebecca Suldan, ES 2013, WGSS, The Women's Action Coalition, the Lesbian Caucus, and Identity Politics in Third Wave Feminism
Erin Vanderhoof, ES 2013, WGSS, Race and Queer Identity in Cape Town, South Africa
2011 Solomon Fellows:
Joan Gass, MC 2012, WGSS, Transnational LGBTQ Movements in India.
Mara Dauphin, DC 2012, History, The Role of Publications in Building LGBTQ Communities in 20th Cent. America.
Katherine Lund, SM 2012, English, LGBT Family Portraits: A Senior Project in the Writing Concentration.
Peter Thompson, ES 2013, Religious Studies, An Ethnography of Epicentro: Centro Comunitario Gay de Lima Peru.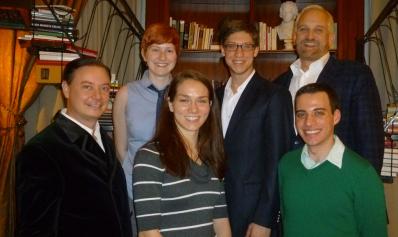 2010 Solomon Fellows:
Ben Bernard, SM 2011, History, A comparison of the historical background to the debates over PACS and gay marriage in France, Massachusetts, and Connecticut
Kiki Fehling, CC 2011, WGSS, Sexuality and sexual health among the LGBT elderly
Sam Schoenburg, SM 2011, Political Science, Analysis of the messaging strategies used by both sides in recent state referendum campaigns over marriage (drawing on polling and focus group data acquired by Freedom to Marry, New York City)
Seth (Sarah Beth) Weintraub, TD 2011, WGSS, A study of the effectiveness of social service programs for homeless transgender youth, using the records of the Ali Forney Center for LGBT homeless youth in New York City
2009 Solomon Fellows:
Alan Montes, "Psychological and Communal Support Needs of Latino LGBT Teens and Youth"
Rachel Schiff, "Transgender Legal Advocacy and Research: Exploring the Intersection of Legal Language and Civil Rights
Sophia Shapiro, "Research on AIDS and Youth at Montefiore Hospital, Bronx, New York"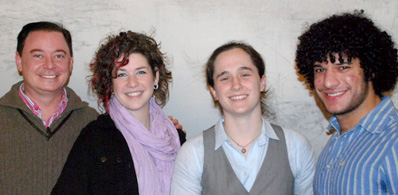 2008 Solomon Fellows:
Adam Gardner, "(Re)Presenting Absence: Felix Gonzalez-Torres and the Archive of Loss"
Emily Hoffman, "A Study of Lesbian Performance in New York, San Francisco, and London"
Anna Wipfler, "LGBTQ Student Organizing at Yale in the 1970s and 1980s"